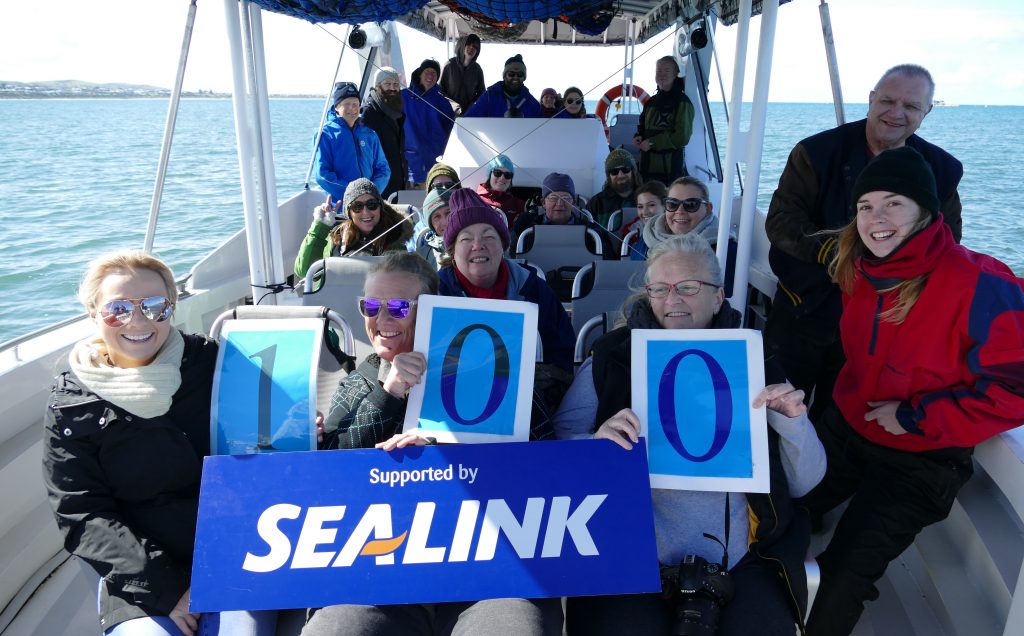 Milestones and memories!
Thanks to the generous support and wonderful "gift" from Michael and Bianca Veenstra and the Big Duck Boat Tours, our 100th Kangaroo Island / Victor Harbor Dolphin Watch research survey in Encounter Bay was a survey with a difference!
We have since had 2 more wonderful local surveys but this amazing milestone was a magical one we will always remember!
On August 25th the crew headed offshore into the Southern Ocean to visit the magnificent Pages Islands and the endangered Australian Sealion colony, while looking for cetaceans, large and small. The Pages are a small group of 2 islands and a reef in Backstairs Passage – a protected area known as the Pages Conservation Park.
A further celebratory note was provided by the Advertiser http://adelaidenow.com.au journalist Michelle Etheridge coming aboard together with photographer Simon Cross and Gabrielle Duykers from the Times, Victor Harbor http://victorharbortimes.com.au . Under a special permit Simon videoed the colony from a drone, trialling further research possibilities for Scientists and Government agencies involved in monitoring the population of the highly endangered Sealions.
No whales were seen but sightings of Shortbeaked Common dolphins delighted all aboard.
A delicious celebration lunch at the Hotel Victor http://hotelvictor.com.au followed and allowed for a further celebration element. A perfect way to celebrate the efforts of Citizen Science volunteers, over 8 ½ years.
Our heartfelt thanks to wonderful Skipper Ian Andrews and crew and all at the Big Duck http://thebigduck.com.au for their fantastic long term support of Citizen Science in the region.
To our wonderful manager Nedra Haines, stalwart volunteers, sponsors and supporters…we salute you!
Special thanks to Sealink Kangaroo Island http://www.sealink.com.au – Dolphin Watch's major sponsors for over a decade for helping to make it all happen.
#thepages #conservationpark #sanctuaryzone #protectedarea #backstairspassage #research #australiansealions #endangeredspecies #sponsors #supporters #victorharbor #encounterbay #citizenscience #volunteers #love #gratitude