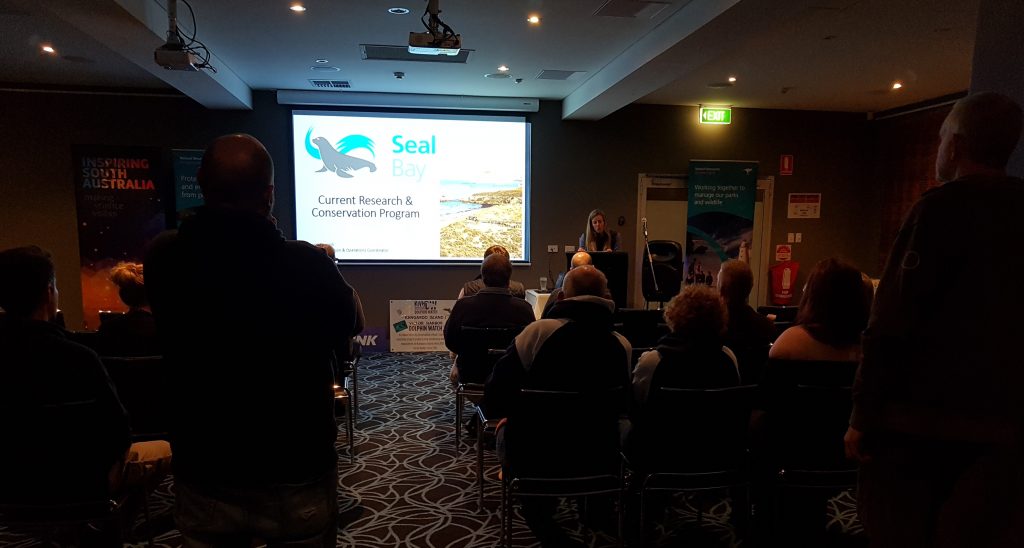 Kangaroo Island / Victor Harbor Dolphin Watch's 10th Science Week event "Getting to Know the Locals" took on a different flavor with a successful collaboration with Natural Resources KI / DEW at the Ozone Hotel on August 15th. A range of speakers delivered an overview of programmes running on Kangaroo Island and the way Science is used to inform conservation efforts around the island and in its waters.
National Science Week each year aims to encourage informed discussion around science-related issues, encourage young people to study science, promote science-based careers, inform businesses of the importance of innovation to their long-term success and celebrate the achievements of Australians working in these fields. It provides a perfect vehicle to highlight, encourage and celebrate community engagement in science and its relevance in our region.
The event was Dolphin Watch's 10th Science Week event funded once again by a National Science Week SA Community Grant and supported by Dolphin Watch's major sponsors, the Ozone Hotel and Sealink KI.
Ross Evans, Communications Manager with Natural Resources KI, as well as speaking on the night, coordinated the input from government agencies providing fascinating displays and an insight for the local community to the breadth and effectiveness of their programmes. Mayor Michael Pengilly provided an opening address followed by Commissioner Wendy Campana setting the context for the evening.
Speakers included Mel Stonnill, Seal Bay Research, Education and Operations Coordinator – "Seal Bay Current Research and Conservation programmes", Damon Cusack, RALF / Regional Agriculture Landcare Facilitator – "Resilient Agriculture: Multi Benefit Regenerative Agriculture", Trish Mooney, APC / Animal and Plant Control Officer – "Animal and Plant Control", Ross Evans, NRM – "Additional Projects" and the "Landscape SA Bill 2019" and MC Tony Bartram from Dolphin Watch. Jarrah Bailey from DEW attended with a display concerning Marine Parks and their effectiveness and highlighting the park of the month, the "Encounter Marine Park" – the first time the featured park has been marine and not terrestrial.
Thank you to all participants, contributors, speakers and audience members, for a very informative expose of conservation science. As always wonderful hospitality and fantastic sponsorship and support, thankyou Team Ozone Hotel!
A brilliant educational evening providing hope for future conservation efforts on Kangaroo Island.
Special thanks to Pete Nash / Pete Nash Photography.
Roll on National Science Week 2020 "Ancient Seas"!
#nationalscienceweek #Science #presentation #celebration #collaboration #conservation #thankyou