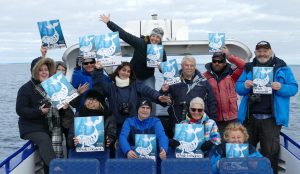 Launched in 2008 by the International Fund for Animal Welfare https://www.ifaw.org/au National Whale Day provides an opportunity to raise awareness of, and discuss solutions to, the threats facing whales and their environment, including commercial whaling, noise pollution, climate change, vessel strikes, marine debris, by-catch and entanglement.
It's always a treat to look back and remember wonderful National Whale Day KI / VH Dolphin Watch Whale Encounters and special celebrations in our region over the years!
This year in the lead up to World Oceans Day on June 8th Dolphin Watch undertook a series of events to highlight both the marine environment and World Environment Day. Unfortunately National Whale Day celebrations at Victor Harbor were restricted to a celebration lunch after postponing the research survey due to inclement weather.
A small group of dedicated Citizen Science volunteers, including Victor Harbor Mayor Moira Jenkins, enjoyed a delicious Hotel Victor lunch together with Michael and Bianca Veenstra from the Big Duck Boat Tours https://www.thebigduckboattours.com.au   who have been a vital, integral part of not just the Dolphin Watch project but the overall protection of cetaceans in our regional waters over 8 years of operation in Encounter Bay.
Stunning, clear conditions with no wind to speak of made the Kangaroo Island survey on World Environment Day, June 5th, a delightful experience for all aboard Kangaroo Island Marine Adventures http://www.kimarineadventures.com.au
No large whales were encountered but a pod of 20 Bottlenose dolphins including 2 young calves resting and frolicking off North Cape made for brilliant observations. Moving further offshore resulted in an exhilarating encounter with a number of frisky Shortbeaked Common dolphins. These beautiful, small, swift dolphins provided the highlight of the day with high energy aerial displays. What a way to finish the on water celebration. After the survey the group met at Amadio's in Kingscote to debrief and complete the celebrations.
On both occasions Coordinator Tony thanked all volunteers over the years for their dedicated efforts in data collection assisting with conservation efforts, and reiterated the critical state of the highly endangered Southern Right whales in our region whose population is estimated to have fallen to less than 300, making them the most highly endangered group of Baleen whales in the world.