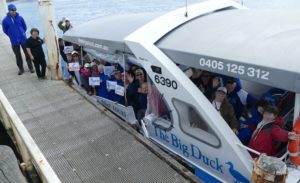 Dolphin Watch has been unobtrusively monitoring dolphin populations on Kangaroo Island since 2005 and Victor Harbor since 2011, minimising impacts and behavioural change, collecting vital baseline data. Developing understandings of custodianship of these sentient non human persons and their habitats, dedicated volunteers of all ages participate in surveys on Eco Tourism vessels: Kangaroo Island Marine Adventures and The Big Duck Boat Tours, Victor Harbor, plus land-based monitoring, contributing a staggering number of volunteer hours over 11 plus years.
Victor Harbor's 6th Birthday survey was a fantastic experience for all on board despite the conditions with 22 Bottlenose dolphins displaying peaceful resting behaviours in close proximity, allowing for great observations and data collection.
A delicious lunch at the Red Orchid followed, allowing original owner / skipper Dan Irvine and new owner / skipper Michael Veenstra to be thanked for their fantastic support of our vital research efforts. A stunning birthday cake once again created by volunteer Gloria Jean was truly the "icing on the cake". Highly productive workshops at the SA Whale Centre on the following 2 days saw all observed dolphins identified – a tremendous result.
Thanks to all at The Big Duck, the wonderful volunteers and supporters, the SA Whale Centre and especially our wonderful Manager Nedra Haines once again for her fantastic organisation, dedication and outstanding contribution to the welfare of the cetaceans in the region over the years.