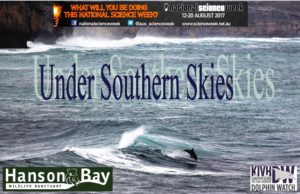 Another presentation for international volunteers recently at the magnificent Hanson Bay Wildlife Sanctuary on the rugged South Coast of Kangaroo Island, saw a small but enthusiastic audience introduced to Dolphin Watch, including Jim, one of the two Sanctuary owners. Congratulations to both Jim and Todd on 20 years of fantastic conservation effort and special thanks to Manager Kelly and Mick and staff for their wonderful work, fantastic help and support, and facilitating our visits.
"Under Southern Skies" presents an exciting new National Science Week 2017 focus at Hanson Bay through this wonderful collaboration, featuring the magnificent terrestrial and marine biodiversity of the south coast, highlighting the importance and relevance of Science in our region and beyond, and leading to greater knowledge and understandings of existing conservation programmes and the need to care for coastal environments.
Offering a different focus, building on our 7 successful National Science Week events, Under Southern Skies will involve an evening celebration with a snapshot of brilliant conservation programmes on KI, including those at the sanctuary, with guest presentations by various speakers and displays, live music etc.  This main event on August 17th will be supported by a community South Coast survey on our fantastic operational partners Kangaroo Island Marine Adventures, a Dolphin Watch presentation and a community open workshop during Science Week.
Hanson Bay Wildlife Sanctuary is well known for its conservation efforts and international volunteer programmes in an unspoilt wilderness, recognised as one of the most bio-diverse and pristine ecosystems that remain in Australia. In 1998 it was added to the Heritage Places National Estate Register.
Thankyou Hanson Bay!